How to help protect against COVID-19 this season
---
Posted: November 07, 2023 | Word Count: 827
---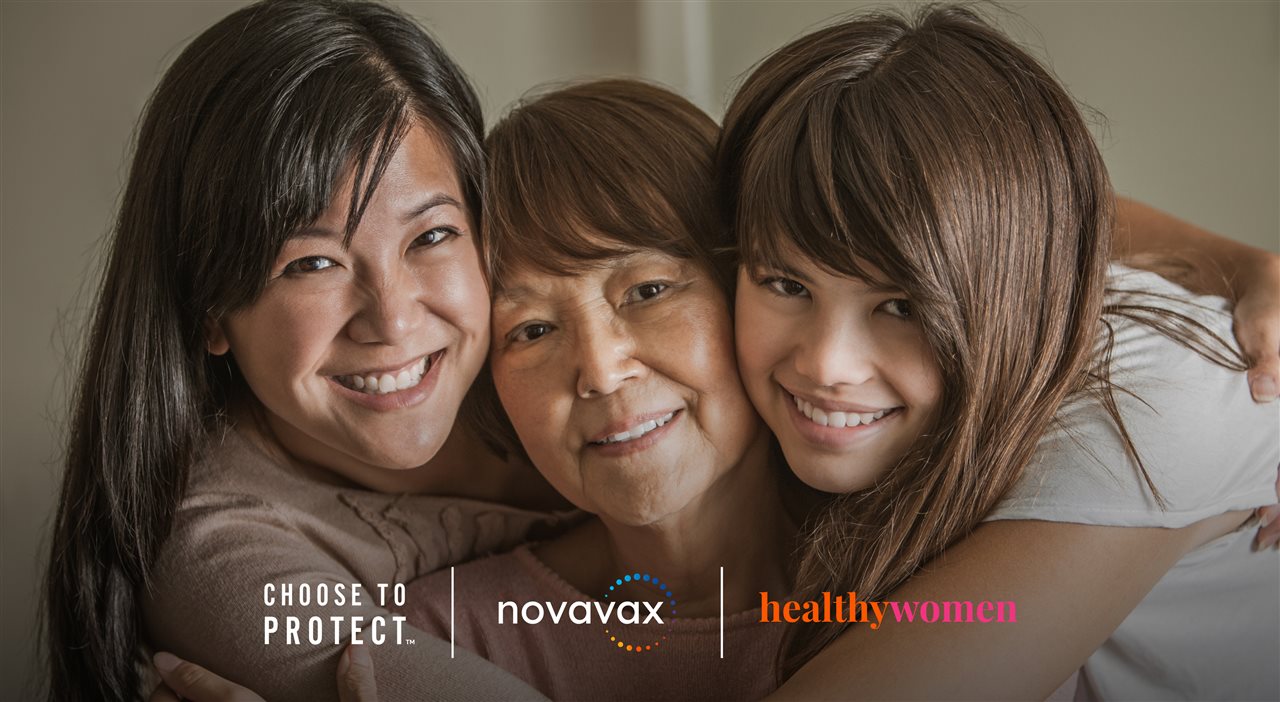 Many people feel the need to shield their loved ones from harm's way and preserve and protect what's most precious — whether it's a life partner, children, or elderly parents, and that includes protection from infectious diseases like COVID.
Although COVID is no longer considered a public health emergency, it remains an ongoing health concern for Americans.[1] However, COVID vaccine fatigue remains a major obstacle in maintaining immunity and keeping vaccination rates high.[2]
Choosing a COVID vaccine to help protect what matters
COVID vaccines play an important role in helping to protect people from getting seriously ill, being hospitalized, and even dying from COVID.[3] Vaccines are especially important for populations like the elderly and those with weakened immune systems who are at an increased risk for severe outcomes from COVID.[4]
"The good news is that we have COVID vaccine options available. As of September 2023, public health officials stated they anticipate the updated COVID vaccines will be better at fighting currently circulating variants,[3]" said Dr. Jehan "Gigi" El-Bayoumi, MD, FACP, Founding Director, Rodham Institute and Adjunct Professor, Georgetown University School of Medicine. "I recommend that people discuss COVID vaccine options with their healthcare provider or pharmacist to determine the best option for them, including if you're eligible to get other vaccines, like the flu shot, at the same time."
This season, updated COVID vaccine options are available, including protein-based and mRNA options.[3] It's important to know that people who received one type of COVID vaccine previously do not have to receive the same kind again.[3]
What you can do to help Choose to Protect
Learn more about vaccine options by visiting www.ChooseToProtect.com.
Download the discussion guide to talk with your doctor or pharmacist about how to stay up-to-date with COVID vaccination.
Share with your family and friends so they can also Choose to Protect.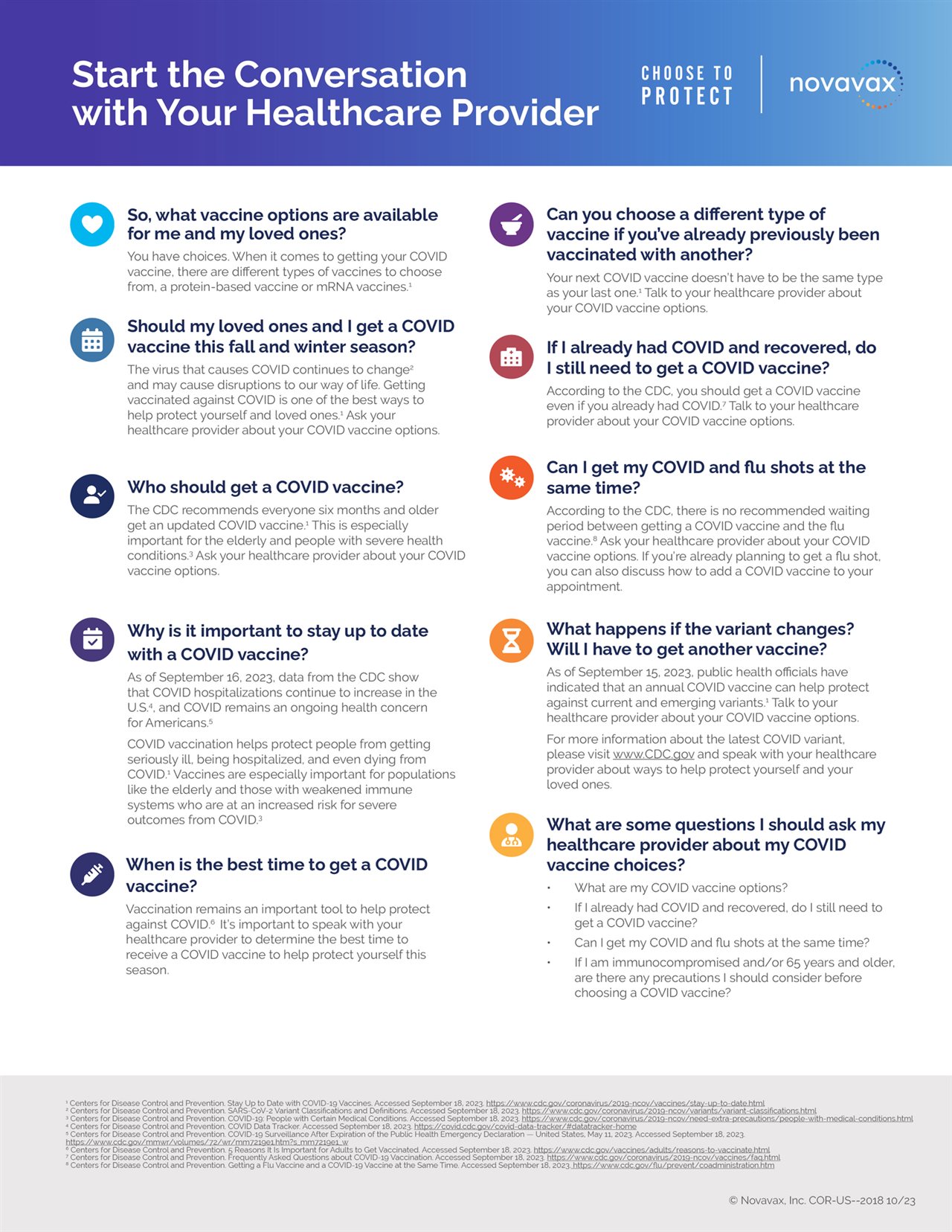 Understanding perceptions and education gaps around COVID vaccines*
Novavax, in partnership with HealthyWomen and with support from Harris Poll, conducted a survey among 1,005 vaccinated U.S. adults aged 45+ who play a key role in household healthcare decisions to better understand perceptions about and attitudes toward COVID vaccination as well as potential motivations to take action on education gaps concerning COVID vaccines.
The top survey results to know include:
82% of adults surveyed said they believe vaccines are absolutely essential or very important for maintaining their health, and three out of four said they believe vaccines are absolutely essential or very important for their ability to spend time with family.[5]
The top three reasons people are motivated to get vaccinated are because of new variants,[6] increasing COVID cases[7] or from wanting to have a less severe illness if they get COVID.[5],[8]
Nine out of 10 surveyed adults agreed it is important to have a range of COVID vaccine options for themselves and their family.[5]
"For many people who serve as key healthcare decision-makers for their families, COVID made it that much more important and that much more difficult to protect ourselves and our families," said Beth Battaglino, RN-C, Chief Executive Officer, HealthyWomen. "What made it easier was having access to safe and effective vaccines that have been well tested, a fact supported by 86% of survey respondents who agreed that knowing their loved ones are vaccinated against COVID puts them at ease.[5] Our choices matter — learn more about your options and get vaccinated against COVID today."
* Survey findings are results from the Choose to Protect™ survey, conducted by The Harris Poll and co-commissioned by Novavax and HealthyWomen.


[4] Centers for Disease Control and Prevention. COVID-19: People with Certain Medical Conditions. Accessed October 20, 2023. https://www.cdc.gov/ coronavirus/2019-ncov/need-extra-precautions/people-with-medical-conditions.html
[5] Novavax and The Harris Poll Survey Findings. Initial Survey Highlights. Field Period: September 7-14, 2023.
This sponsored article is available to download for free use in print and online publications. If you must edit the article, please include at least one brand reference. All articles must retain the (BPT) or Brandpoint byline.
Download this Article
---
Includes Multiple Photos